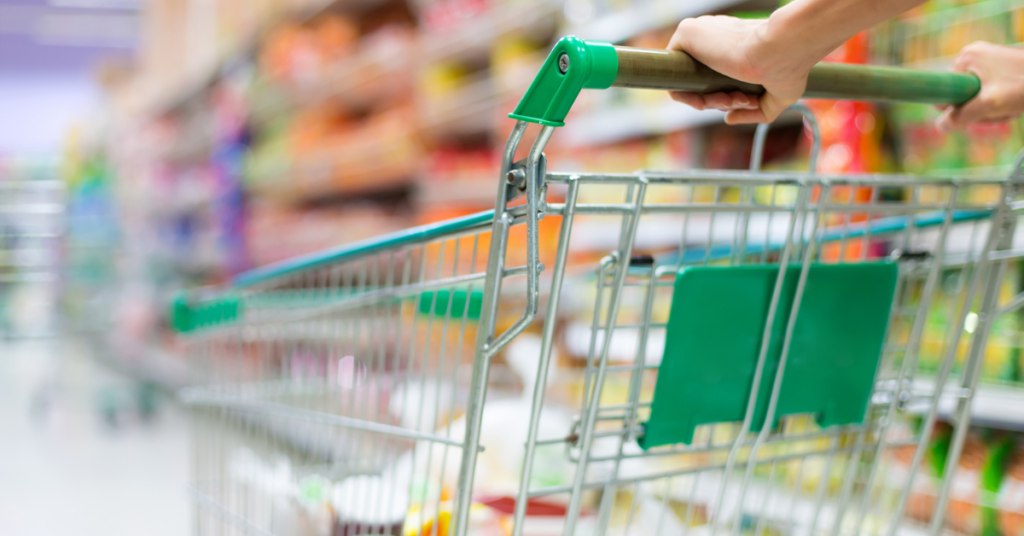 Have you been injured in a Publix grocery store recently? This kind of accident can leave the victim with long term emotional and physical trauma. On top of that, getting the Publix corporation to compensate you fairly can be frustrating. If you're considering a personal injury attorney, read on to learn more about common grocery store accident injuries, Publix's responsibilities to the public, and how our experienced attorneys can help you.
Common Injuries That Happen at Publix Supermarkets
More often than not, Publix provides a clean, safe, and inviting environment for customers to do their grocery shopping. However, any amount of negligence can create an unsafe condition, which unfortunately can result in severe injuries:
Slip-and-Fall
When Publix staff leave hazardous conditions unchecked, a shopper can slip and fall, often resulting in one of these types of severe injuries:
Head, neck, and brain injury
Fractures and broken bones
Shoulder, spine, and back injuries
Spraining or straining the ankles, feet, and wrists
Bruises and lacerations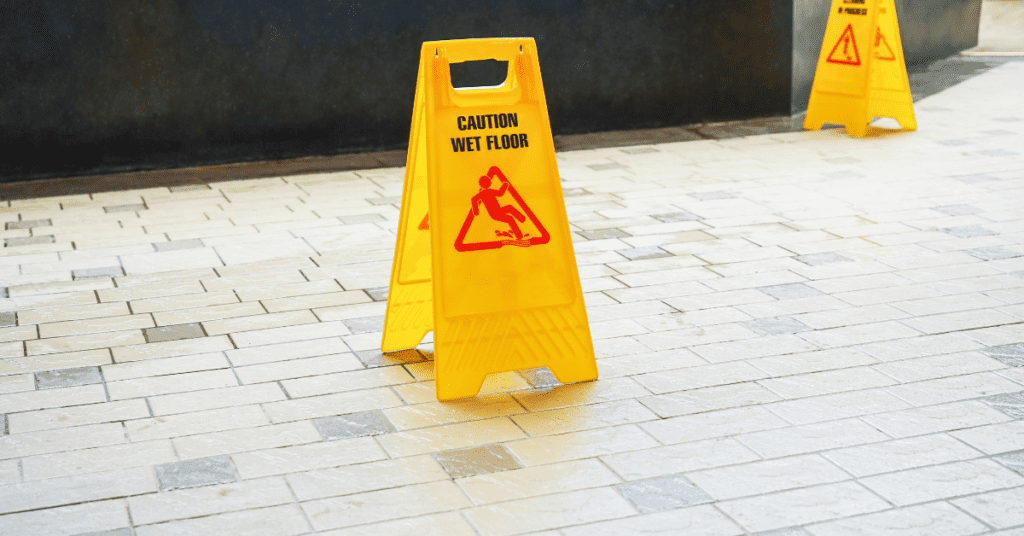 Parking Lot Accidents
Publix staff aren't just responsible for keeping the grocery store safe. They also are responsible for ensuring the parking lot is safe and secure. When parking lots go unchecked, customers sustain slip-and-fall injuries due to poor road conditions such as asphalt cracks and potholes. In addition, customers also become victims of criminal activity such as carjacking and theft.
Common Causes of Publix Accident Injuries
Naturally, we would want to blame ourselves for getting injured in a grocery store. However, you should know that every store, including Publix, must provide a safe environment for everyone on its premises. With that in mind, it's critical to consider how Publix could have prevented your accident:
Poor aisle lighting
Fallen objects on the floor
Wet floor areas that don't have a slippery surface warning sign
Cracked or uneven floors
Unmaintained and unsafe parking lot
Premises Liability Explained
Florida's Premises Liability law states that the property owners and tenants are responsible for keeping the property in good condition and safe from hazards. Failure to maintain the property results in injury liability caused by negligence.
Furthermore, Publix, as a grocery chain, has a duty of care to everyone in the grocery store and parking lot. Here are Publix's full responsibilities to their customers:
Maintain the property in a clean and safe condition.
Address any hazards or dangerous situations as soon as possible.
The store must warn customers of the potential danger if hazardous conditions are left exposed to the public.
Run regular inspections to find and fix dangerous conditions on the property.
Steps You Can Take if You've Been Involved in a Publix Accident
If you've been involved in a Publix accident – here are the steps you should take to ensure you're compensated fairly.
Seek medical attention even if you think you're not injured.
While some injuries are noticeable, others aren't apparent until days or even weeks after the accident. That's why it's crucial to get medical care as soon as possible so your injuries don't worsen over time.
Document all details of the accident.
Take several photos and videos of the accident, your injuries, and other relevant evidence to prove how the accident occurred. Note the date, time, location, and further essential details.
Gather witnesses' statements and contact information.
Witness statements become highly valuable once you file personal injury claims against insurance providers and large corporations such as Publix.
Consult an experienced slip-and-fall attorney.
Insurance companies and big corporations like Publix usually don't go out of their way to compensate customers for their mistakes. In fact, they would often go as far as to deny responsibility and reduce the settlement amount as much as possible. An experienced lawyer can fight on your behalf and do all the necessary dirty work to get the fair compensation you deserve.
How Much is My Publix Injury Case Worth?
The value of your Publix injury case will highly depend on the damages and other circumstances surrounding the accident. In legal practice, the deal equates to the total damages an injury victim can recover from the claim. In Florida, one can claim two types of legal damages from premises liability: economic damages and non-economic damages.
Economic Damages in Florida
Economic damages are valued based on total financial losses from an accident. These damages include medical expenses, ongoing medical treatment and rehabilitation, and lost wages due to time that was taken away from work to recover from injuries. Economic damages act as reimbursement for financial losses. That's why the calculation often requires evidence such as billing invoices, medical bills, medical receipts, paystubs, and tax returns.
Non-Economic Damages in Florida
Non-economic damages are valued based on intangible losses. These damages include mental anguish, loss of enjoyment of life, loss of consortium, permanent scarring, and permanent disfigurement. Non-economic damages are meant to address the victim's incalculable pain and suffering due to the accident.
Florida also recognizes punitive damages but is usually reserved for extreme circumstances such as intentional, malicious, and violent acts.
How Long Do I Have to File a Publix Injury Lawsuit in Florida?
Under Florida's Statute of Limitations, you have up to four years from the time of the accident to file a personal injury lawsuit and up to two years for a wrongful death lawsuit. If you don't file within these time frames, the court system will most likely dismiss your case.
How Our Publix Accident Attorneys Can Help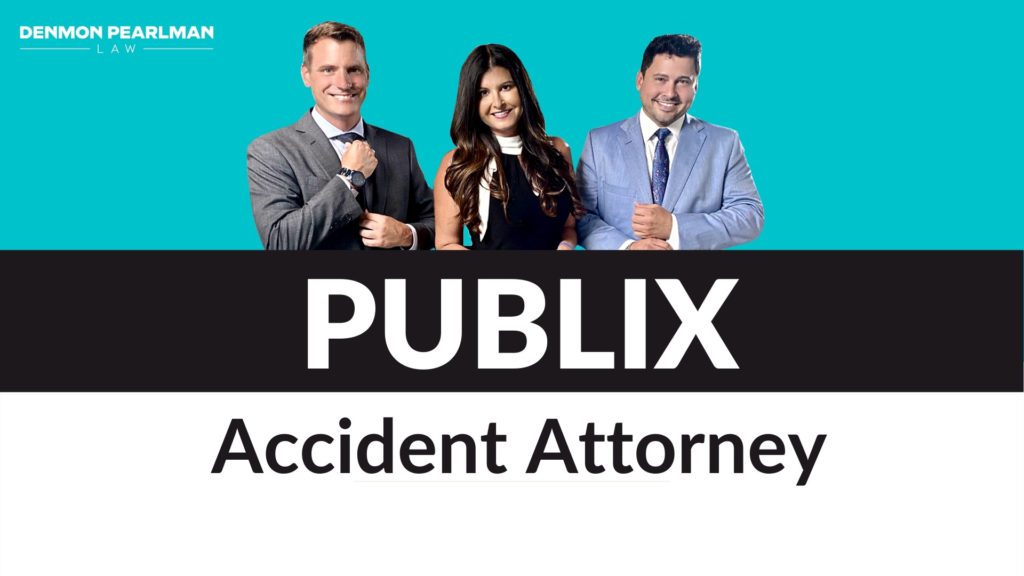 Our experienced personal injury lawyers can help you reach a fair settlement amount to compensate for your injuries and damages fully. They will fight on your behalf, so you can focus on fully recovering from the accident and getting your life back to normal. Contact us at Denmon Pearlman Law for a free consultation to learn more about your rights, your legal options, and how we can help you.
Frequently Asked Questions
Can you sue for pain and suffering in Florida?
In Florida, pain and suffering count as non-economic damages when you file a lawsuit for premises liability injury.
Is Publix self-insured?
Publix is self-insured and has a risk management department in Lakeland, Florida, that handles all incoming accident claims.
Our Expertise
We have your back. Whatever you might be suffering from, accidents, injuries or medical malpractice, we have you covered throughout Florida
Let's get in touch!
The initial consultation is absolutely FREE
Denmon Pearlman
Law
St. Petersburg Office
520 2nd Ave South
St. Petersburg, FL 33701
(727) 800-4601
Denmon Pearlman
Law
New Port Richey Office
5703 Main Street
New Port Richey, FL 34652
(727) 478-0518
Denmon Pearlman
Law
Brooksville Office
1790 E Jefferson St.
Brooksville, FL 34601
(352) 309-7354
Denmon Pearlman
Law
Seminole Office
5290 Seminole Blvd. Suite D
St. Petersburg, FL 33708
(800) 800-4300